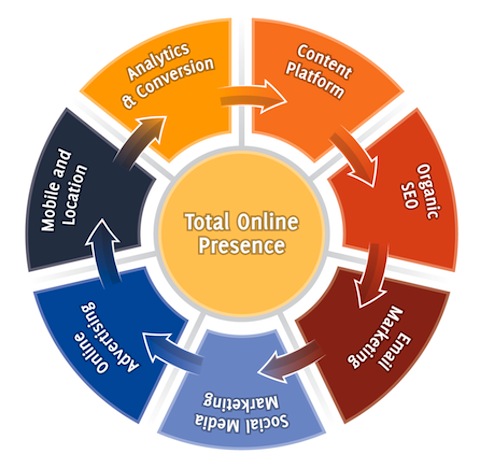 Today, having a website is the bare minimum you need to compete, … but it may not be enough.  Your customers are actively turning to the web and all forms of social media to have there questions answered.  If you do not have a total online presence, you will not be on their radar screen.
By having a total online presence at the point where your customers are searching, you will be able to extend your reach beyond your physical location, while at the same time educating your customer, and priming them for a purchase.  This is increasingly becoming  the point where new customer relationships begin.
Download Duct Tape Marketing's Newest eBook – 7 Essential Stages of a Total Online Presence
There are many moving parts involved in marketing and the online elements increase in importance with each passing day. But, marketing is a system, and to effectively operate this system you must assemble and integrate each of the important parts into something that looks like the whole.
Your online presence is your key to success no matter what your business sells – no matter if all of your transactions are done face-to-face – no matter if you don't yet see a way to get a return from your Facebook page – no matter if you've never bought an online ad.  In this eBook we outline the core components of a Total Online Presence and give you a taste of the specific details that must be considered as you build your own presence.
Download Our 7 Steps Report (plus a bonus)!