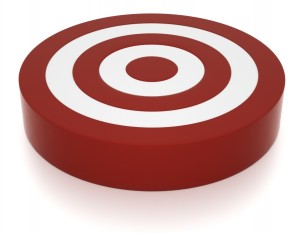 Once of the most common mistakes new entrepreneurs make is not accurately determining what their Impact Radius should be.  An Impact Radius can be defined as the geographic region that your business could realistically influence to do business with you.  Many businesses may want to have a client base of millions, but one must gauge whether it is realistic to serve this customer base given limited resources.
For a bowling alley, a realistic Impact Radius could be one that contains between 50,000 to 100,000 people.  For a big box grocery store, it may be a region which contains 100,000 to 350,000 people.  For a newspaper publisher it might be the whole city, and the neighboring cities.  And for a specialty paper like the Wall Street Journal, it is at least a national radius, and may even be international.
Here's the problem.  Most people have limited marketing dollars to get new business in the door, and it usually takes repeat exposures to a marketing message for a prospect to act upon it.  Let me demonstrate by example:
| | | | |
| --- | --- | --- | --- |
| Example: $10,000 Budget.  Minimum 7 exposures needed to induce a trial purchase | Audience Reach | Single Insertion Cost ($5 CPM) | Audience Impressions for $10,000 Spent |
| Publication 1 | 400,000 | $2,000 | 5 |
| Publication 2 | 200,000 | $1,000 | 10 |
| Publication 3 | 100,000 | $500 | 20 |
With Publication 1, if we spent $10,000 we could reach 400,000 people with 5 exposures to our message (i.e. 5 insertions of the ad).  Publication 2 would reach 200,000 people with 10 exposures. And Publication 3 would reach 100,000 people with 20 exposures.
But the example also states that it takes 7 impressions to induce a trial purchase.  If we reach 400,000 people only five times (Publication 1), this will not be as effective as if we reached 200,000 people 10 times (Publication 2) or 100,000 people 20 times (Publication 3).
Realistically, a business will be better able to serve a smaller population base with its existing resources than overextending their assets with a larger one.  By focusing on the smaller population within a practical Impact Radius, you will have a greater chance of maximizing your profits.