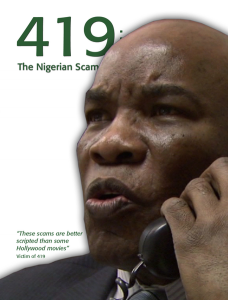 Unbelievable promises, outlandish claims, impossible scenarios. Nigerian scams are one of the most common types of confidence frauds for which there seems to be a never-ending line of willing victims. There are many variations of the con, but here are a typical scam email's highlights:
A high ranking government official has possession of $26 million and is seeking assistance from a resident of a western country who can assist in funnelling the money out of Africa and into a "reliable" bank account. For your trouble, he will pay you 30% of the proceeds, which will amount to $7.9 million after taxes and miscellaneous expenses.
Who would believe this drivel? Maybe not you and I, but enough people each year that there are dozens of reports of fraud, robbery, and even kidnapping and murder as victims travel to unfamiliar destinations to meet the perpetrators to move forward claims or recover their lost funds.
A recent research paper from Microsoft on this type of scam discovered that the fraudsters have a clear purpose for making outrageous and outlandish claims from the start: to qualify the prospect.
In the big picture, sending out millions of scam spam emails costs pennies compared to the immense amount of time and labour required to reel in the suckers who will eventually pay the advance fees that are the whole purpose of the scam. The more intelligent the prospect, the less likely the scam can be pulled off.
What's the solution? Only work with the most gullible. If someone actually believes a Nigerian prince, or a South African ministry agent, is going to cut them in for 30% of a multi million dollar take on the basis of a reply back to an unsolicited email, that's perfect! They have self qualified themselves (read "I am dumb") as the perfect scam victim. Our fraud artists can now invest the time to reel the fish in.
What's the marketing lesson for you?
Have your audience self-qualify. Although you are probably not running a con game, our scammer friends have it right. Investing time with unqualified prospects is usually a grand waste of time. By installing a self-qualification process, you can have your audience indicate their degree of interest in your offer PRIOR to investing your valuable time and effort.
On our website, we have the following categories of "self" qualification:
People who read our blog
People who have downloaded our infographics and ebooks.
Prospects who have completed our 10 minute marketing audit, and then submitted it to us for our review.
Each of these segments indicates a higher degree of interest in our topic. We put this method to very good use, to the point where we will not meet with anyone who has downloaded our ebooks or completed our 10-minute marketing audit.
Our rationale?
If the prospect isn't willing to take the time to read a short report about the marketing tools we will be installing in their business, or complete a 10-minute questionnaire on topics we need to know about their situation in order to help, they must not be very interested in what we have to offer.
By installing a self-qualification process, you will dramatically improve your lead conversion and sales numbers.