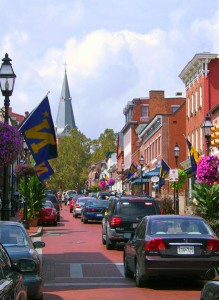 by Kurian M. Tharakan
Want to Maximize Your Local Small Business Marketing?  Here are the critical things you must do!
For many businesses, their best target market is the local market.  And when a prospect is in need of a product or service but is unsure of where to find it, their first instinct is to turn to the web and see what's available. This makes the web a crucial means of reaching consumers, and a tool which local and small businesses must optimize to stay competitive.  This makes techniques such as search engine optimization essential to small business marketing.  If a prospect doesn't find your company near the top of search results they are unlikely to find you period.
So how do you optimize your local small business marketing to become relevant on the web?  How do you ensure your business is actually found when a consumer is looking for a product or service you provide?  Here are some tips.
You're a local small business– make your pages local!
The address of your company – the physical address, not the web address – should appear on every page on your website, in the site header or footer. To assist with optimizing your search results, it's crucial to include your city as well.
But local consideration shouldn't end there. Mention of activities in your city, suburb or even neighbourhood can draw attention to your website and help create a community. A local event blog, festival news, or not-for-profit work is a plus.
Involvement in the local blogosphere is an ideal way to gain exposure for your company. You can engage with potential customers while improving your local presence.
Social Media
For many business owners, social media means creating a Facebook page or a Twitter feed to share with potential consumers. Results of these methods are mixed. While your page or feed may exist, what's driving traffic to your page, and why do people want to read your company's twitter feed? Are Facebook and Twitter even that useful to your particular company? They may not present the means of reaching consumers that you are looking for.
Creating these sites is easy; creating interest is an entirely different challenge.
There's much more to building a web presence, traffic, and presenting yourself to would-be consumers. Here's how to do it.
Creating Your Search Profile
Although it's important for people to find your site and/or information, it's MORE crucial that they be able to find you when they are searching for the information they need. Build out your local search profile on sites like Google, Yahoo!, and Bing. With rapidly increasing mobile use, updating Google Mobile Search is just as important. These sites want you to build out your profile.
These search features allow you to enhance your profile past a simple address. You can include your category of business, hours of operations, or even the type of payment you accept. Utilize these features to their full potential. Adding a video, picture, or other elements to your profile can help differentiate you from competitors. Remember, this information is the first thing consumers see – make it stand out and provide them with what they need.
Be Proactive.
One bad review is rarely a big problem, but it can be if it disproportionately skews your online rating or is the only comment regarding your company on a review site.  A rival company with five generally positive reviews, while your only review is negative, is not the best place to start intriguing your next prospect.
It's important to engage customers in an effort to enhance your profiles. Companies often collect testimonials and success stories from customers, but happy customers should be encouraged to share these stories online. While websites do not share the exact correlation between reviews and appearance in search results, those reviewed more often tend to appear higher in search results.
Your chance of drawing in visitors also depends on mentions from other sites. Any effort to get listed, cited, or mentioned on other web pages will lead to additional traffic, or at the very least awareness of your business.
A number of services – formerly of the print variety – are online, and have replaced the paper Yellow Pages. It's a good move to ensure you're consistently listed on these providers, as well as association, alumni, and trade group sites. Again, it's hard to quantify, but it appears more natural listings can help place your company appear among top search results.
Consistency is Key
There are countless sites that post information and company details online. Do your best to ensure you're consistently listed with updated information online. Internet Yellow Pages (yellow.com), Superpages (superpages.com), Switchboard (switchboard.com), and Yellow Book (yellowbook.com) are some of the leaders in this regard.
Best Practices
Start a community blog. Discuss local events and issues in the community. This is a great way to increase engagement in the community. Even if your product or service isn't immediately desirable to them, you can create awareness.
Engage with similar, non-competitive industries. If, for example, your business has a connection with children, your blog doesn't have to specifically discuss products you are selling but could highlight local children's events. This is an ideal opportunity to team up with similar, yet non-competitive companies (say, a local children's charity, for example).
Encourage a historical/holiday angle. Use Facebook (or a similar site) to network around a local event, milestone, or activity.
9 Ways to Maximize Your Local Small Business Marketing:
Download our 7 Steps Report to Marketing Success. Everything else will build on this.
Claim your listing. Claim your listings on major search platforms like Google Maps, Yahoo!, or Bing.
Hand submit to local directories and merchant sites. Use your full address, phone number, and as much information (eg – hours of operation, pictures) as possible.
Manage your information. Keep it up to date. Out of date information can be almost as damaging as no information at all.
Encourage happy customers to post reviews. There are numerous review sites – yelp.com, insiderpages.com, citysearch.com, local.com, merchantcircle.com – which compile and list customer reviews.
Get active in the (online) community. Much like becoming known in the physical community, it's crucial to network with those in the online community.
Optimize all social media available.Facebook and Twitter are one thing, but there are numerous online community sites that may be useful to your business. YouTube, Flickr, Pinterest, Slideshare, LinkedIn, Meetup, or Biznik are some additional sites to consider. The social media scene is always changing, so continue to look for additional sites to consider.
Be active on social networks. Simply creating a page is not going to create traffic and interest. You must engage the online community. Create unique content that helps the community achieve something, anything.
Build local links. Make connections with other local sites, both to create a network as well as to gain exposure locally.
Bonus: Click for 325 Online Marketing Tools!