… or what sailing can teach you about start-up strategy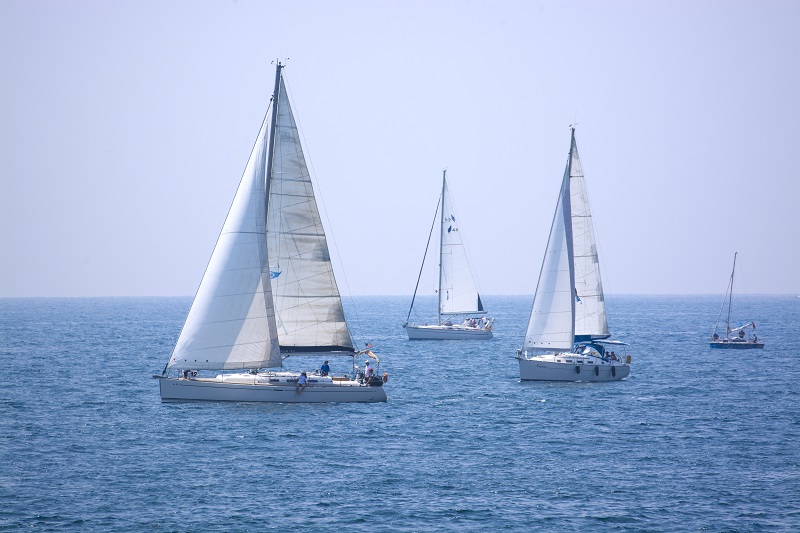 by Kurian M. Tharakan
The earliest depiction of a sailing ship was found on a painting discovered in the Middle East from 5000 – 5500 BCE. In the old world, sailing was such an important means of transportation that almost every major civilization has contributed to the advancement of sailing knowledge, allowing explorers to push out even further into the sea and eventually discover the new world.
Of course, sailing ships don't work very well without the wind, and by the 15th century the Portuguese were busy documenting the ocean's "trade winds". This allowed them to more easily navigate the north and south Atlantic Ocean, extensively mapping the coasts of Asia, Africa, and Brazil in the process. This was the beginning of the Age of Discovery, which ultimately connected the entire world by sea.
The establishment of world trade through extensive sea routes could not have been possible without wind power to billow the ship's sails, or new ship designs to take advantage of the prevailing winds.
What does sailing have to do with starting a business?
… completely forgetting to ascertain the direction, strength, or even availability of wind to power the ship.
So by now, you are probably wondering what does sailing have to do with starting a business? Well, starting a business is a lot like sailing. Even non-sailors know that a sailing ship cannot operate in an adverse wind or windless conditions. But, in their rush to start the new enterprise many entrepreneurs blunder by FIRST building a fancy ship, while COMPLETELY FORGETTING to ascertain the direction, strength, or even availability of wind to power the ship.
Wind power in this context refers to macro trends, and the most common categories include:
Demographics – population, sub-groups, longevity, family structure, income, etc.
Economics – availability of capital, productivity, management theory, etc.
Environment – availability of raw materials, ecosystems, habitat, etc.
Government – structures, politics, legislation, policy, etc.
Society – culture, beliefs, values, religion, etc.
Technology – scientific discovery, innovation, and commercialization
These trends can power forward, capsize, or refuse to billow your ship's sails. As an entrepreneur, if you FIRST identify the trend that will power your ship you can then concentrate on creating a ship (business) design that will take FULL ADVANTAGE of this rising typhoon of free energy. Here are three companies, all of which were start-ups at one time, that did exactly that:
| | | |
| --- | --- | --- |
| Company | Enabling Macro Trend | Description |
| Mastercard – Market Capitalization: $345 billion (October 2020) | Technology: Cash to Plastic | The movement of transaction payments from cash to "plastic" credit and debit cards, enabled by computer networks. |
| Facebook – Market Capitalization: $755 billion (October 2020) | Technology: The Social Web. Society: Virtual Social Networks | The Internet enables individuals to be always connected, and choose to have "passive" or "active" social connections. No one needs to talk to anyone anymore; they can now message, like, and favourite their way through life. |
| Ford – Market Capitalization: $28 billion (October 2020) | Technology: Internal combustion engine. Society: Sub-urbanization. Demographics: A massive, steady increase in population, and rising incomes, starting in the 1900's | Car companies benefited immensely from a rapidly growing, diverse, and wealthy population that chose to live away from the city centres in the new suburbs. |
… if you are counter to the macro trend your ship WILL sink.
Of course, there are still many things that can go wrong with the design or building of the ship (company-specific risk), but you have a greater ability to reduce that risk since it is something that you can directly control. However, if you are counter to the macro trend, your ship WILL sink.
The Strategy Lesson
The strategy lesson for a start-up entrepreneur is clear, to have a chance at winning you must be on trend. To do that, just follow these steps:
Identify the macro trend(s) your sailing ship will be powered by. One of the easiest ways to do this is by typing the words "global trends" or " << your industry >> trends" into Google and see what comes up. Use your good judgment on what may be relevant.
Build a sailing ship to fully take advantage of the macro trend's direction, speed, and even quirks. Here's an example. If you are in the information technology industry, you might recognize the trend to IOE: Internet of Everything. Under this trend, your future has an IP address attached to everyday items such as your TV, fridge, toaster, and stove allowing you to monitor, control, and instruct them through the internet. What's the opportunity? Cybersecurity for appliances. A recent CNET article detailed how an internet connected fridge was compromised in a botnet attack and forced to send out over 750,000 spam emails! Of course, this attack didn't do any permanent damage, but what if the botnet had instructed the fridge to turn itself on and off repeatedly until it failed? Scary isn't it? This is a market JUST WAITING for someone to seize it.
Adjust your sails, and ship design, to ensure that you are availing yourself of every ounce of the macro trend's power. This is just keeping up with the direction of the trending winds, and ensuring you are still on course. To do this, continually research the prevailing, new, and waning trends in your industry.
What macro trend is powering your business?