… or how to build trust and liking through the power of cognitive dissonance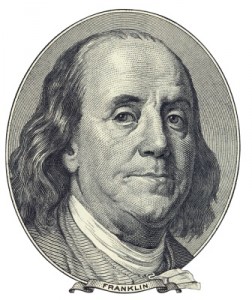 Traditional wisdom suggests that one of the techniques to get someone to like you might be to give them a gift. This could be as simple as a favour, an acknowledgement, or a small token. Now, would you believe me if I told you that you could also get them to like you by having THEM DO YOU A FAVOUR?
This technique is often referred to as the Benjamin Franklin effect based on a story about Franklin and a fierce political rival in the Pennsylvania legislature. Franklin and his opponent were often at odds, and to remedy this situation Franklin asked his adversary to lend him a rare book he had in his collection.
"Having heard that he had in his library a certain very scarce and curious book, I wrote a note to him, expressing my desire of perusing that book, and requesting he would do me the favour of lending it to me for a few days. He sent it immediately, and I return'd it in about a week with another note, expressing strongly my sense of the favour. When we next met in the House, he spoke to me (which he had never done before), and with great civility; and he ever after manifested a readiness to serve me on all occasions, so that we became great friends, and our friendship continued to his death."
To test this phenomenon, psychologists John Jecker and David Landy ran an experiment. They had a group of students participate in an "intellectual contest" for a significant amount of prize money. After "winning", the students were approached in the following manner:
1/3 were asked by the researcher to return the money as he had been using his own funds and was running short
1/3 were asked by a secretary to return the money as it was from the psychology department and funds were low
1/3 were not asked
They were then surveyed and asked to rate how much they liked the researcher. The first group rated him the highest, with the 2nd group rating him lowest. This demonstrated that a personal request increased liking, while an impersonal request decreased liking.
… the grapes are probably sour anyway …
The Franklin story illustrates the psychological concept of cognitive dissonance which occurs when we hold two or more conflicting thoughts in our head. A familiar illustration is the Aesop fable "The Fox and the Grapes." When the fox cannot reach the grapes, he exclaims that the grapes are probably sour anyway, thus reducing his mental tension of not being able to obtain what he wants.
In order to reduce the tension in their minds, people can:
Change their future behavior
Justify their behavior by replacing the conflicting belief
In the case of Franklin, the legislator changed his attitude to Franklin based on the belief that we only do favours for people we LIKE. (Unfortunately, this effect also works in the opposite way. If someone has harmed another, they are more mentally pre-disposed to harm them again. i.e. I must have harmed them because they deserve to be harmed.)
Liking is a crucial component to establishing trust in your relationships, and it is not a permanent state of affairs. By giving people an OPPORTUNITY to like you, one can significantly advance the creation of this trust base.