An Edmonton Inbound Marketing Company

We are a Digital Marketing Company
Let us help you Build an Online Marketing System for Your Business
A Proven Solution for Online Marketing, Branding, Lead Generation, and Sales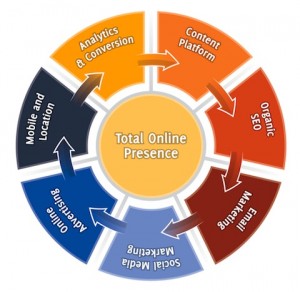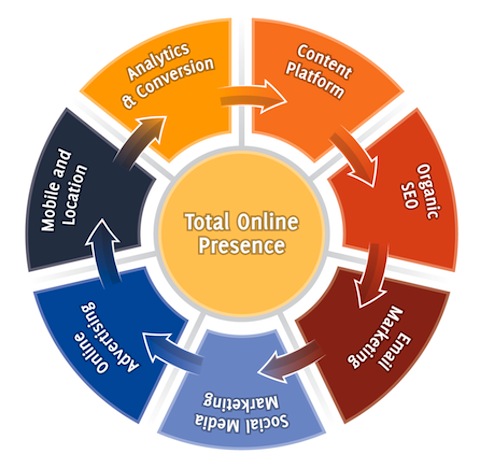 If the pace of change of online marketing seems to be moving faster than you can keep up, you're not alone.
And while you're trying to keep up, a recent survey by ComScore suggests that as high as 92% of people turn to online sources to find and engage even local businesses.
So, if you're not focused on creating a total online presence, one that gives you a distinct competitive advantage in the market, your business won't survive long in the world as we know it today.
Here's the thing though, online marketing isn't really that complicated. In fact, the fundamentals of gaining the elements of know, like and trust using online tools are essentially the same offline as they are online.
Where We Can Help
While you may have most of the answers you need to compete online, you're probably searching for a systematic approach to building the social media marketing foundation that will allow your business to thrive.
And that's where I think we can help.
The most important element of online marketing is to create a system. Business owners have been bombarded with the online idea or tool of the week. It's no wonder it seems complicated and convoluted when in fact, it's really not that hard to understand at all . . .
If you approach your online presence logically and practically
If you build a simple foundation based on proven customer generating techniques
If you know the precise order you must work in order to be most profitable
If you understand how to create content that generates the most traffic
If you focus on the essential practices that search engines love
If you understand exactly what makes money and what doesn't
If you know how to turn social media participation into sales
If you learn the simple secrets of tapping thousands of visits from online advertising
If you know how to capture permission to market to every website visitor
If you know where to invest your dollars and where to avoid
If you have a crystal ball that grants you insight into your competitor's marketing
If you can quickly gauge the effectiveness of every move you make
In Other Words, If You Build a Total Online Marketing Presence
That's why we created the Total Online Presence program so that every small business owner could learn the best way to tap into the incredible power of online marketing and master the strategies, tactics, and tools required to build a complete approach to online marketing.
Here's an Overview of What's Contained in the Program
Content Platform Part 1 – So much of what happens online revolves around content. It's how you get found, why people pay attention and how you start to exchange value. Without a content platform to build from a great deal of effort in other stages will be wasted.
In this stage we will build the foundation of your online presence:
How to create a customer listening station
How to monitor your competitors and quickly analyze any website
How to turn your blog into your most valuable asset
How to find the perfect keywords for your monthly content topics
How to build an editorial calendar and manage content
Content Platform Part 2 – Content is the core foundation to online marketing. In this stage we will really start to build your platform:
How to use landing pages to highlight your content
How to effectively capture leads from web visitors
How to build a powerful email marketing list
How to repurpose and get more from every piece of content
How to amplify, share and curate the best content
Organic SEO – Having someone type a search phrase that is key to your business and finding a blog post or page from your site on page one of the results is the ultimate payoff and, long-term, may be the difference between success and failure.
In this phase, we will cover how to get listed and ranked highly in the search engines including:
Advanced methods for mining better keywords
The most important elements of your website in SEO terms
How to research your competitors and understand how to outrank them
How to acquire the all important links back to your site
The simple secrets to dominating local search
The latest tools used to analyze any website
Email Marketing – An engaged email list, eager to hear from you, is the most valuable asset your can build. 1,000 responsive email followers are better than 25,000 Twitter followers when it comes to promoting the things that make your money.
In this phase, we will go deep into the essential tasks and techniques of email marketing including:
How to choose the right Email Service Provider
How to use autoresponders for automated follow-up
How to use social media to help build your email list
The secret to getting your email opened
The best way to capture the greatest amount of email leads
How to automate the process of creating an email newsletter
Social Media Marketing – The first step is to understand how your current customers are using social media and how you can use social media to somehow serve them better. If you do that, you'll get immediate value.
In this stage, we will integrate the increasingly important elements of social media including:
How to adopt a social media strategy that's proven to succeed
How to let your customers tell you exactly what they need
Best practices for getting the most from Google+, LinkedIn, Facebook, Twitter, YouTube and Pinterest
How to get the most from the ratings and review sites
How to automate almost every aspect of social media
Online Advertising – Many people waste advertising and then conclude it doesn't work. Pay per click advertising can be very effective when done right. One of my favorite things about it is that a platform like Google AdWords allows you to test your thinking a dollar at a time.
In this stage, we will cover the ins and outs of online advertising including:
How to set up your first AdWords campaign
How to use online advertising to test offline messages
How to get the most while spending the least
How to know exactly which ads are bringing you the most
How to use landing pages to make every ad pay
How to use online advertising to drive people offline to meet with you
How to quadruple the impact of your ads
How to best use targeted Facebook ads
Mobile and Analytics – Mobile is more of a behavior than a tool. The first step is to analyze what behaviors your customers are exhibiting before you dive into or dismiss Foursquare or text messaging.
Like many stage-based processes, there is a cyclical aspect as well. For some, creating benchmarks and key performance indicators is really the first step. So, if you're one of those folks you can start here, because no matter where you are in the process this stage will always evolve.
In this stage, we will cover mobile tools and the basics of analytics including:
How to make your website mobile friendly
How to easily customize Google Analytics to get the data you need
How to create high payoff conversion funnels
The best way to test every element of your website
The latest campaign and conversion automation tools
So, How Much is a Total Online Presence Program Going to Cost?
What you will receive:
A fully operational online marketing program, and lead generation system based on a proven Total Online Presence Marketing model.
Price:

Starting at $3,250/month + setup
Expenses are separate (e.g. design, development, hosting, advertising, etc.)
Contact Us
Kurian M. Tharakan
Managing Director, Strategic Marketing Services
780.237.1572 direct

StrategyPeak Sales & Marketing Advisors
Suite 503, 10108 – 125 Street
Edmonton, Alberta, Canada
T5N 4B6